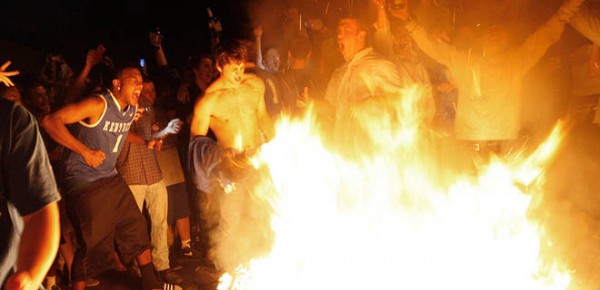 Riot police used pepper spray in small amounts for crowd control as thousands of rowdy fans swarmed into the streets near the University of Kentucky campus, overturning cars and lighting couches ablaze after a victory over cross-state rival Louisville in a Final Four matchup.
Police had been bracing for the possibility of post-game violence and resorted to pepper spray though large amounts werent needed before they ultimately began dispersing the throngs, Lexington police spokeswoman Sherelle Roberts said.She said 150 officers deployed on the streets at one point to quell what she called a very dangerous situation with the fires and the violence that dragged on for hours.
Its a fairly difficult situation, but not anything we didnt plan for, Roberts told The Associated Press.Lexington City spokeswoman Susan Straub said police made fewer than 10 arrests, and a few injuries were reported after the celebrations turned rowdy in the streets after the Wildcats 69-61 win in New Orleans.Roberts subsequently told The Lexington Herald-Leader that by 1 a.m. there had been at least 13 arrests, including several people suspected of arson. The newspaper also reported police had to dodge flying beer bottles while taking fire extinguishers to put out dozens of fires involving sofas, trash and other debris set ablaze in the streets. There were no immediate reports of any serious injuries to police.
via Fans set couches on fire, overturn cars after Kentucky beats Louisville in the Final Four – College Basketball News | FOX Sports on MSN.
(Visited 43 times, 1 visits today)