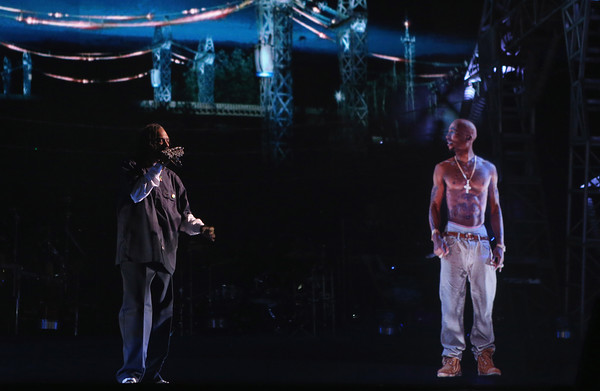 It's the question everyone is asking on Twitter & Facebook "How the hell did they bring back Tupac?"
Tupac Shakur is the first dead entertainer the company has presented "live."The hologram of Tupac was put together by video technology firm AV Concepts with the help of James Cameron's visual effects company, Digital Domain, using a mix of previously recorded live footage and CGI, writes The New Scientist.
The hologram effect was created using a system developed by London-based Musion, which uses an advanced version of a 19th century magic trick called Pepper's ghost to make virtual images appear live on stage.While the traditional illusion uses light partially reflected off a pane of glass, Musion's version involves a custom-developed foil to create more believable images.
Dr. Dre and his production team first approached Digital Domain a year ago to discuss the possibility of creating a virtual Tupac. They began work in earnest on the Coachella performance around four months ago.First, the image was created on a computer, using physical characteristics and movements captured from recorded performances.Advances in computer graphics and video projection allowed Sunday night's illusion to be far more lifelike than other recent efforts.
For the projection aspect, a San Diego company called AV Concepts used a variation of a visual effect that was discovered in the 19th century, known as Pepper's Ghost.Though the projected image has been widely described as a "hologram," it is a 2-D image and not a hologram, which is 3-D.It used a mix of previously recorded live footage thought to be from a 1996 Death Row concert, CGI and an 19th Century magic trick called Pepper's Ghost.
Tupac appeared on stage alongside rappers Dr. Dre and Snoop Dogg – who are very much alive – and greeted the crowd by naming the Coachella festival, despite the fact it had not been held prior to his death. It seems somewhat doubtful that anyone had tape of Shakur shouting "What up, Coachella!" lying around, since the festival did not begin until three years after his death in 1996.
The hologram of Tupac Shakur that "performed" at Coachella with Snoop Dogg and Dr. Dre Sunday cost somewhere between $100,000 and $400,000, reports MTV News. The precise figure has not been disclosed but according to AV Concepts, the company that created and staged the hologram, that is the general amount required to produce a similar effect.
"We worked with Dr. Dre on this and it was Dre's vision to bring this back to life," Nick Smith, president of AV Concepts. "It was his idea from the very beginning and we worked with him and his camp to utilize the technology to make it come to life."
"To create a completely synthetic human being is the most complicated thing that can be done," Digital Domain's chief creative officer, Ed Ulbrich, said in a phone interview Monday.He said that the performances of the rapper's hits "Hail Mary" and "2 of Amerikaz Most Wanted" weren't simply old ones captured on film and repurposed: "This is not found footage. This is not archival footage. This is an illusion.""This is just the beginning," Mr. Ulbrich said. "Dre has a massive vision for this."
via How Tupacs Hologram Was Created For Coachella Plus Tour Breaking News & Views on BlackMediaScoop.
(Visited 21 times, 1 visits today)