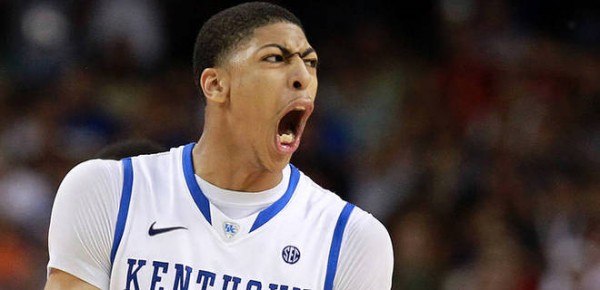 Kentucky's starting lineup of three freshmen and two sophomores did most everything together. Now, they will go their separate ways in the NBA.
Freshmen Anthony Davis, Michael Kidd-Gilchrist and Marquis Teague, and sophomores Terrence Jones and Doron Lamb declared for the draft in a nationally televised news conference Tuesday night.
"We made it work," Jones said. "We all wanted to be there and do it together like we've done everything else together."
The group, all clad in similar blue UK golf shirts, came into the season largely untested before ascending to No. 1, winning the Southeastern Conference in dominating fashion and capping an NCAA tournament run with a 67-59 victory over Kansas in the title game for the school's eighth championship.
MOCK NBA DRAFT
Now that he's made it official, Kentucky's Anthony Davis likely is the top overall pick. But who's next?
"It's been a great opportunity playing here, I'll miss this team, the way we played together. We all love each other," said Davis, who picked up every major player of the year award and is likely the No. 1 pick in June's draft. "I'm just going to miss this place. We won an NCAA championship here and did a lot. We all did a lot for this school and I'm going to miss it."
via Kentucky Wildcats' starting five announce NBA plans – College Basketball News | FOX Sports on MSN.
(Visited 45 times, 1 visits today)