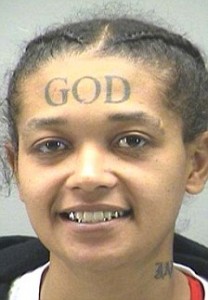 She gives the phrase 'Looking up to God' a whole new meaning.
Jamie Calloway, 33, from Ohio, is the latest to join the top ten of hilarious mugshots for having the words GOD tattooed across her forehead.
Calloway has twice been arrested on separate charges and police undoubtedly had no trouble identifying her inking and her mouth full of metal teeth.
In fact, so proud is Calloway of her teeth and inking that she calls herself  'Jamie Godhead Platinum – Godologist of Godology' on YouTube, where she has posted a number of videos of herself with passages of the bible mixed throughout.
The 33-year-old was arrested last night and booked into the Montgomery County jail on a misdemeanor menacing by stalking count.
In March last year she was arrested on possession charges, this time with a head of unkempt fuzzy hair and looking a little less pleased with herself.
She is currently being held in lieu of $10,000 bail.
(Visited 32 times, 1 visits today)