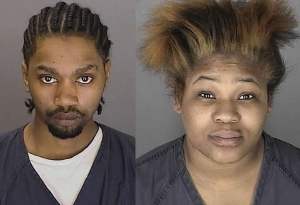 Two parents pleaded guilty this week to fourth-degree child neglect as their two-year old son fell from a second-story window.  The Detroit couple had left the child alone when the incident took place.
Matthew McIntosh and Mattie McCann claim that they left the house to buy cigarettes and then went to McCann's job at a residential group home.   The baby climbed out of the window at 2:45 am and fell.  He was only wearing a diaper, and miraculously survived the fall.  Afterward, he walked to a neighbor's house, where he was taken to a hospital.
Neither parent has criminal record, and both have been denied access to the boy.  They face up to five years probation or a year in jail if convicted.
(Visited 28 times, 1 visits today)