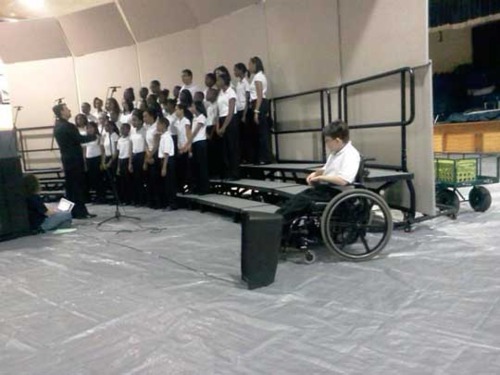 The picture shows choir members from several six grade schools performing Tuesday night at South Cobb High School, while wheelchair bound Alex Pollard, also a chorus member, was kept way off to the side.
Alex's mother, Arla Jan Wilson, said she was just sure someone would roll him up to the group before the music started, but everyone seemed to completely ignore him.
"To see the look on his face, it broke my heart. It was totally unacceptable. That should never happen to my child, or any other disabled student out there," said Wilson.
Wilson said her 12-year-old son, who is in a wheelchair because of Cerebral Palsy, was so excited to join the chorus after seeing the hit show "Glee".
This is simply a d*mn shame. What would have been wrong with wheeling him next to the last student on the bottom row? H*ll they're standing on the floor and how is he suppose to sing way over there? If I were his mom, forget waiting for someone else to wheel him over. After the music started and I saw no one was making an effort, I would have wheeled him over my d*mn self.  
(Visited 37 times, 1 visits today)