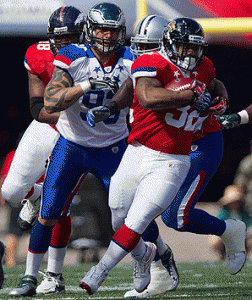 Have NFL fans seen the last of the Pro Bowl?
The game could be suspended next year, two people familiar with discussions said Thursday.
Commissioner Roger Goodell, among others, expressed concerns about the quality of play after January's game, and the league has been holding talks with the players' union about the future of the all-star game. The people spoke on condition of anonymity because the talks were not being publicized.
Responding to an ESPN report that Goodell is "strongly considering" suspending the game in 2013, NFL spokesman Greg Aiello said: "No determination has been made yet."
Goodell said before the Super Bowl in February he was unhappy with what he saw in the AFC's 59-41 win in the Pro Bowl at Honolulu – a game that often resembled touch football. Many players chosen for the game bow out, and if the Pro Bowl is held before the Super Bowl, as it was during the past three years, players from the conference champions don't participate.
The game still draws solid TV ratings, but isn't considered a money maker. Although viewership dropped 8.1 percent in January, the Pro Bowl still was the highest-rated sports program of the weekend.
via No decision made on Pro Bowl's future – NFL – SI.com.
(Visited 29 times, 1 visits today)