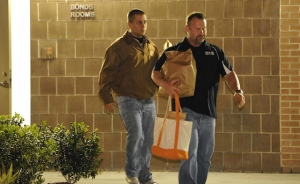 ORLANDO, Fla. — George Zimmerman's attorney says a website created to raise money for his legal defense has raised more than $200,000.
Mark O'Mara said on CNN's Anderson Cooper 360 Thursday night that he learned about the money on Wednesday and will inform a judge at a Friday hearing.
Zimmerman, who has been charged with second-degree murder in the Feb. 26 shooting of Trayvon Martin, was released from jail this week after paying 10 percent of $150,000 bail.
Want to Keep Up With NewsOne.com? LIKE Us On Facebook!
O'Mara says the bail amount may have been higher if the judge knew Zimmerman had raised $200,000.
The website used to raise the money has since been shut down, but O'Mara said he'll likely start a new defense fund for Zimmerman.
(Visited 14 times, 1 visits today)