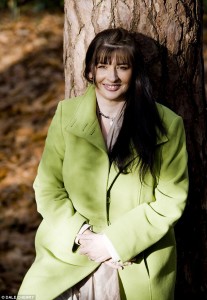 Of the 32 neuroscience centres in Britain, only four carry out awake brain surgery and only on up to ten cases annually. Mr Grundy's team at Southampton General Hospital, however, performs more than 40 a year.
Awake surgery is being used increasingly for knee and hip-replacement  operations, as well as in plastic surgery, because the recovery time is so short. Patients do not have to shake off the effects of heavy sedation and most can go home the same day.
In the case of brain surgery, there are other benefits too. Such operations are extraordinarily complex – doctors liken the procedure to 'removing a spider from jelly'. Often the body of the tumour can be removed but a stray leg might be left behind.
Success is a balancing act. Although the aim is to remove as much of the tumour as possible, cutting away too much could cause irreversible brain damage.
If a patient is kept awake during the procedure, the surgeon can monitor their responses with a simple series of questions and directions. Which is where the thumbs-up comes in.
Mr Grundy explains: 'The fact that a patient can tell me how they feel as I work allows me to see how much of the tumour I can get to and remove before triggering any potential long-term damage, such as paralysis. Ultimately, it means I can safely remove more of the tumour than if they were asleep.'
Victoria invited me to watch her operation, hoping her story will make the situation less daunting not only for patients about to undergo the procedure but also for the 4,700 people in the UK diagnosed with brain tumours every year.
Victoria becomes distressed as she feels a sensation in her left leg that she recognises as a prelude to a fit
But days before her operation at Southampton General in December last year, Victoria admitted: 'I'm absolutely terrified at the thought of being awake during surgery.
'My husband Andrew thinks it's a big mistake because the idea of having any operation while you're awake sounds horrifying, but, from our discussions with Mr Grundy, I know it's the best chance of prolonging my life.'
The next time we meet, Victoria is waiting nervously in her hospital gown to be taken in to theatre. 'If you'd told me when I started to have problems with my leg that I'd be doing this, I would have thought you were mad,' she says.
Her symptoms began last year with a strange sensation in her foot. 'I'd had tendonitis [inflammation of the tendon] in my right foot and assumed I had compensated by putting pressure on the left one,' Victoria says.
'My GP told me it was nothing to worry about, but by April I felt as if something was running up and down my left leg – a sensation that would come and go. I was tired all the time and felt very depressed, which isn't like me at all.
'The doctor gave me Prozac but within weeks my leg started twitching. Initially, it was thought to be a side effect of the antidepressants but my leg continued to get worse. My foot was turning inwards and eventually I could hardly walk.'
It wasn't until last August, when Victoria had an epileptic fit and was rushed to Basingstoke and North Hampshire Hospital, that a scan revealed a tumour in the right frontal area of her brain.
'I was blase at first, joking with Mr Grundy that I'd bring the tumour home in a pickle jar. Once the news sank in, my biggest fear wasn't whether the tumour was cancerous but what might happen during the operation. Would I end up paralysed? It was the fear of the unknown that scared me more,' she says.
On the day of her surgery, Victoria looks surprisingly calm as she transfers herself from the trolley to the operating table.
She lies on her left side, with her neck on a cushioned rest to make her more comfortable during the two-hour operation.
(Visited 24 times, 1 visits today)