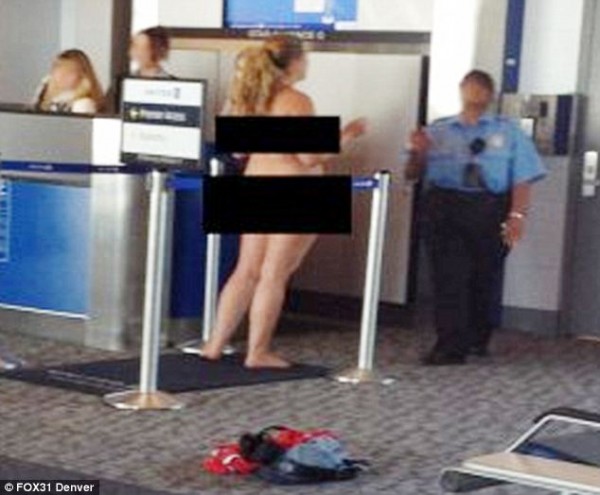 Perhaps she was proving she had nothing to hide or maybe she thought officials had asked for a strip search?
Whatever the case there was all round confusion when one woman stripped naked at Denver International Airport on Tuesday morning.
The bizarre incident happened at about 8.45am when the woman was caught illegally smoking a cigarette at an airport departure gate.
Airport workers told the woman to put out the cigarette – at which point she took off all her clothes.
Still standing in just her birthday suit the woman then asked an official to reprint her boarding pass.
It is unclear why she removed her clothes but police said that the cigarette issue was unrelated. They added that she told officers she had was exhausted from a lack of sleep.
Denver police spokesman Sonny Jackson said: 'It appears to be some sort of a breakdown.'
Raquel Lopez, spokesperson for the Denver Police Department, added to msnbc.com: 'The woman told officers that she'd had no sleep the night before.'
A photo obtained by TMZ shows the woman totally in the nude with her back to the check-in desk. A fellow passenger keeps his eyes firmly averted from the lady who has a pile of clothing at her feet.
One witness, who wished to stay anonymous, said most passengers were startled by the woman.
'Most were shocked,' he told FOX31 Denver. 'No one really noticed her at first because people were trying to get to their planes. Then, everyone realised she was just standing there completely naked.'
Bizarre: Airport officials asked the woman to stop smoking at the departure gate just before she decided to get naked
The witness added that parents hurried to cover their children's eyes to save them from seeing the naked woman. Other passengers can be seen milling past, their heads turned to look.
After about 20 minutes standing in the nude, the unidentified woman was taken to a hospital for assessment. She was not arrested and faces no charges.
The airport has two smoking lounges. Laura Coale, an airport spokesperson, told msnbc.com there is no clothing-optional area – nor are there any plans to create one.
(Visited 740 times, 1 visits today)