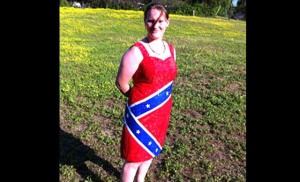 A high school student is pissed about being barred from her prom because school officials told her the Confederate flag-designed prom dress she wore was offensive, the Huffington Post reports.
Texanna Edwards, a senior at Gibson County High School in Tennessee, has been speaking out about the incident that took place last week because she feels she did nothing wrong.
"They looked at me and said, 'You can't go in because your dress is offensive and might start something,'" Edwards told WREG News.
Eddie Pruett, director of schools for the Gibson County School System, said officials feared the symbol might cause controversy at the dance, particularly because there have been "race-related issues" in the past.
"You have to try to do what's best for every child. Because of past incidents, [Principal James Hughes] felt that by admitting that dress it could cause a problem that night, or it could continue on throughout the school year," Pruett told the Tennessean.
Edwards said that she meant no harm when she wore the dress, which she said cost $150 to design.
"It was done just for the sole fact that I just wanted a rebel flag dress because I thought it was cool," she said.
Check out Edwards defending her choice in prom attire below!
(Visited 64 times, 1 visits today)