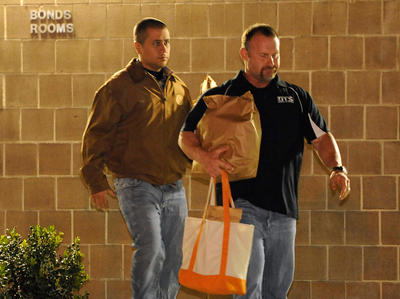 ORLANDO, Fla. (AP) — Wherever George Zimmerman went after he was released on bond from a Florida jail, a sensitive GPS device will pinpoint his location for authorities and alert them if he drifts even a few feet away from where he is allowed.
Zimmerman, who is charged with second-degree murder in the killing of 17-year-old Trayvon Martin, went into hiding Monday as he awaits trial. He must pay an $8-a-day fee to use the device, which is generally used to track people charged in domestic violence cases.
Local bail bondsmen whose clients have worn the same device used to pinpoint Zimmerman said it is highly-sensitive and can send messages to authorities in real-time. Zimmerman had to put up the customary 10 percent of his $150,000 bond to leave jail.
Seminole County Sheriff's officials are offering few details on how Zimmerman will be specifically monitored, other than to say the device he is wearing has the same 24/7 capabilities it uses to track accused domestic violence offenders. Zimmerman may be residing outside of Florida for safety reasons.
The monitoring program has been in use since 2003 in Seminole and provides "real-time monitoring of an offender's movements and is capable of monitoring anywhere in the U.S.," according to a sheriff's office news release. In 2009, the agency said using the devices saved $950,000 by keeping people out of jail.
"It does help us out as far as keeping track of people, there's no doubt about it," said David Engel, who has been running a bail bonds business with his wife in Sanford since 1992. "It does not come off. It's locked on their leg. If it ever came off it would send a signal. They're not very strong, but it can't just fall off."
Engel isn't involved with Zimmerman's case, but said his experience with clients who have used them has been relatively seamless because the devices are so hands-off.
The device is much like a cellphone, with a small box, receiver and battery charger, fixed to his ankle with a thin strap.
Computer software that is synched to the device enables "inclusionary zones" to establish where a person can go. It also can report whether the user is being compliant with release conditions like curfews. Zimmerman has been asked to observe a curfew between 7 p.m. and 6 a.m.
The tracking devices are most often used to make sure suspects in domestic violence cases don't come near alleged victims, Engel said.
It will likely be inconvenient for Zimmerman, however: The tracker must be worn all the time, even while bathing.
Mena Trombino, manager at MacDonald Bail Bonds, said people who have worn the devices after posting bail have rarely complained.
"The only time we ever had anybody complain was when one guy had to wear it to work," she said.
Engel said the technology is so sensitive that the monitoring computer has been alerted by the wearer unknowingly drifting a few feet into a restricted area while driving to the grocery store, for example.
It's because of that that people generally don't try to circumvent the system, though it has happened.
"They can get cut and we do have people cut them," Engel said. "(Authorities) call us and let us know. So it's better for us when they have them on."
(Visited 30 times, 1 visits today)