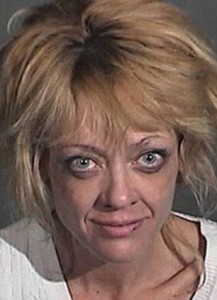 Lisa Robin Kelly is best known for her roles on That '70s Show. She was the beautiful blonde bombshell who starred as the promiscuous elder sister of Eric Forman on That '70s Show.
But in a mugshot released by police after she was arrested over the weekend after claims of domestic violence, the actress looks a far cry from the well-groomed character who had no trouble getting a date.
Instead, 42-year-old Kelly looked a hot mess with messy hair hair and what appears to be a small cut on her lip.
The picture was taken after Kelly was arrested when her male roommate made claims she had attacked him.
(Visited 61 times, 1 visits today)