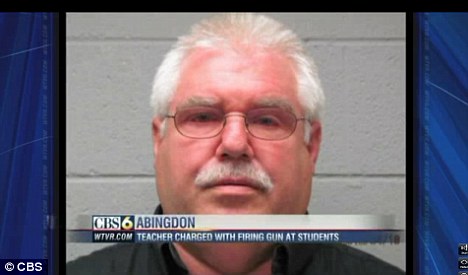 High-school welding classes always carry a high risk of injury but last week one lesson took a bizarrely dangerous turn.
In an apparent attempt to get his students' attention one welding teacher lined up his class against a wall, pulled a gun from his waistband and fired multiple rounds of blanks.
The twelve students allegedly feared for their lives when Manuael Dillow fired off between four and ten rounds at them during a welding class.
Dillow, 60, a teacher at  William H.Neff Center, in Virginia, was arrested last Wednesday and faces twelve felony counts of brandishing a firearm and inciting fear in the students.
He had borrowed the blank firing handgun from another teacher who teaches criminal justice at the vocational school and uses the gun as a visual aid.
Although the weapon is not capable of firing live bullets it makes a loud sound similar to that of an actual firearm, according to police.
Welding: The incident happened during a welding class at the high-school last Wednesday
None of the twelve students were injured but Dillow is facing one criminal count for every student he fired at – each count carries a maximum of five years behind bars.
Police have said it is not clear why the teacher pulled the stunt.
Dillow has been suspended from teaching at the Abingdon school but has not been fired.
One student, Matt Wilkinson, who was in the classroom when the incident unfolded, is standing by Dillow.
Mike Wilkinson, Matt's father, argues that his son was not afraid when Dillow shot the gun and that the teacher did not point the gun at the children.
Dillow was released on a $20,000 unsecured bond and is due to appear in court on May 7.
(Visited 189 times, 1 visits today)