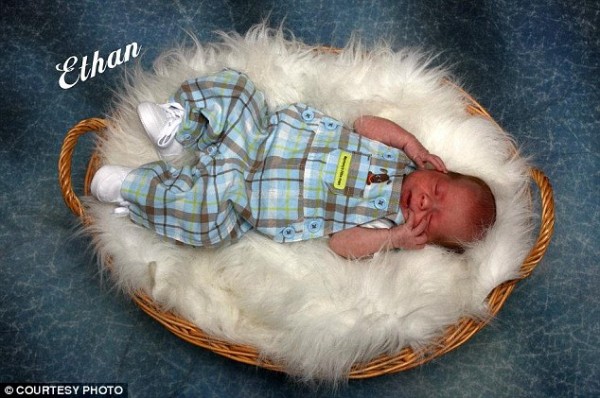 A two-month-old boy has died from brain injuries after his father allegedly lifted him by the head in a fit of rage and threw him into a chair, causing his neck to snap backwards.
The tragedy comes after health services had already been warned about injuries to Gordon Collins-Faunce's three-year-old daughter after she had come to school covered in bruises.
Collins-Faunce, 23, told police he 'was losing control' as he cared for baby Ethan, his twin brother Lucas and his older half sister at their home in Arundel, Maine.
After his fiancée, 23-year-old Christina Henderson, left for work at 9.30 a.m., he went outside for a cigarette and returned to find Ethan and his sister crying, the Portland Press Herald reported.
He admitted he was overwhelmed and pick the baby up from the floor by his head, holding him so the baby's feet dangled as high as his chest.
'He said he stood up straight and held [Ethan] by the head with both hands for "one minute max",' the police affidavit said.
He then hurled Ethan into a chair in the living room, seeing the boy's head snap back as he landed. 'On a scale of 1-10, he estimated his force to be 8 or 9,' the affidavit read.
Collins-Faunce originally told police he had found the baby struggling to breathe and gurgling at the mouth as he laid in his crib. He said the boy's eyes were barely open and he had 'lockjaw'.
The father said he handed the boy to his stepmother and called 911. An ambulance took Ethan to Southern Maine Medical Center, then transferred to the Special Care Unit at Maine Medical Center.
Victim: Baby Ethan sustained severe brain damage and died three days later. His father also admitted he had previously broken his arm when he became stressed while changing his diaper
Doctors found Ethan had severe bleeding around the brain and had no activity on the left side. He was taken off life support and died shortly after midnight on Tuesday, three days after the attack.
Police arrested Collins-Faunce after the alleged incident and charged him with assault. Now the state Attorney General's Office will decide what new charges could be brought in light of the death.
(Visited 21 times, 1 visits today)