Two parents have been charged with aggravated child abuse, after police said they beat their son over a report card conduct grade.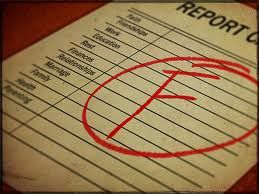 A police report states the couple's 10-year-old son received a "non-satisfactory" grade for conduct. The boy told police he changed it from "N" to "S" for "satisfactory," and gave it to his mother to sign.
When she observed him changing the grade back, she "whipped him." Then police said the boy's father did the same.
The report states the boy went to school with "open flesh wounds on his arms, head and face."
33-year-old Mary Higginbottom and 32-year-old Johnny Allen were arrested for aggravated child abuse.
Neighbors to their right and left are shocked at the incident. Maxine Fowler and LaVerne Simms are very close to the couple's three children, who often talk to them and play outside.
Simms said, "They've always been very good parents. That's why it really upsets me."
The women said the parents believe in disciplining their children, but would never beat them.
But Fowler remembers one time when the 10-year-old got in trouble with a neighborhood child, and Higginbottom spanked him for it.
"Now Mary did give him a whipping for that. But she didn't give him a beating," Fowler said.
The neighbors are in complete disbelief that Higginbottom and Allen are in jail. They describe the couple as nice people, who have raised their children to be respectful.
In fact, the 10-year-old is known to often help Fowler and Simms with their groceries, or with taking the trash to the curb.
However, they have a theory about why the boy got a "non-satisfactory" conduct grade.
Simms said he had talked to her before about being bullied.
"He said he did well in school, but I know he was having some trouble with some of the boys up there. Because they were telling him that he was ugly, and different things. Isn't that terrible? Hurtful?" Simms said.
She added, "He said, Miss LaVerne, they don't like me at school. He said they pick on me all the time. And I said, well…turn the other cheek, walk the other way, and say, the Good Lord be with you."
Fowler said the parents do not deserve to be in jail. Neither neighbor has ever seen any inappropriate behavior from the parents.
(Visited 139 times, 1 visits today)