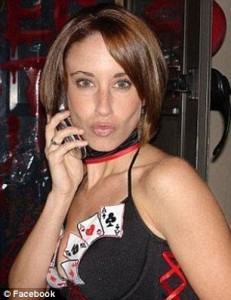 America's most hated mother Casey Anthony has been found ten months after she went into hiding following her sensational acquittal over the murder of her two-year-old daughter Caylee.
The 26-year-old, who has been vilified by the public after a jury found her not guilty despite a string of inconsistencies in her trial defence, was served a court order for a defamation case.
She will now face a judge again in connection with the controversial murder probe after investigators staked out her hideout in Florida and served her with a subpoena.
She is being sued by Zenaida Gonzalez, who shares the name of a fake babysitter 'Zanny the Nanny' who Anthony initially told police had kidnapped Caylee. Anthony admitted fabricating that story.
It later emerged that Anthony, whose acquittal last July has been compared to the infamous OJ Simpson case, did not know anyone by that name and the real Miss Gonzalez is not even a nanny.
Now Miss Gonzalez is suing her after claiming she lost her job and apartment due to the association with the disappearance of Caylee, whose body was found in woods near Anthony's home in 2008.
(Visited 30 times, 1 visits today)