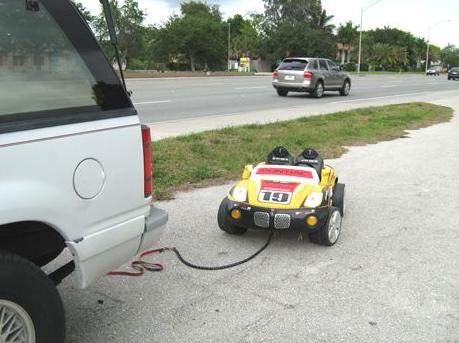 The grandparents of a seven-year-old Florida girl were arrested after they allegedly got drunk and used their SUV to tow the child while she was seated in a plastic Hot Wheels car.
Paul Berloni, 49, and Belinda Jean Berloni, 47, were busted Sunday afternoon after a sheriff's deputy spotted them pulling the girl's toy car, which was attached to the SUV by a pair of dog leashes. The child, who was not injured, was only wearing a swimsuit "and had no protective gear on whatsoever," according to a Sarasota County Sheriff's Office report.
A deputy estimated that the Hot Wheels car was traveling between 5-10 miles per hour when a traffic stop was executed. Paul Berloni, who was driving the SUV, reeked of booze, had watery and bloodshot eyes, and his speech was "slowed and slurred." When asked for his driver's license, Berloni said that it was "revoked for 10 years for a DUI."
Mrs. Berloni–who a deputy noted was also drunk–stated that "it was dangerous to drag a child behind the vehicle," but that "they were just having fun and had been doing this all day."
When the child's father, Justin Oetting, arrived at the scene, he became very upset at his mother, a deputy noted. He asked Belinda Berloni, "Are you fucking stupid you should know better." The girl was placed in Oetting's custody.
The Berlonis are being held in the Sarasota County jail, where bond has not been set on the felony cruelty toward child count.
(Visited 29 times, 1 visits today)