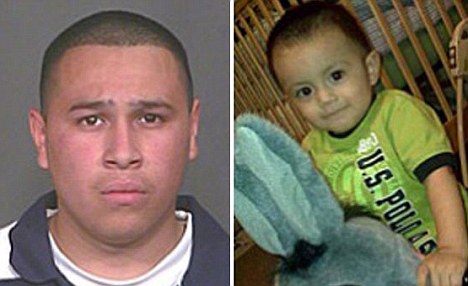 A man accused of beating his girlfriend's 2-year-old boy to death because he wouldn't eat his dinner has turned himself in, police announced Friday.
Juan Garcia, 18, led Arizona police on a near three-month manhunt after fleeing his girlfriend's Phoenix home where the boy, Jorge Zamora-Rogel, was pronounced dead after found thoroughly beaten.
Garcia is being held at the Pima County Detention Center after turning himself near Lukeville border in southern Arizona.
He will be charged with first-degree murder, child abuse, aggravated assault and misdemeanor assault once expedited to Phoenix, Phoenix police spokesman Sgt Trent Crump told AZ Central.
Garcia had moved in to the home of the child's mother, Wendy Rogel-Pagasa, 18, only days before he killing her son, Jorge, in a fit of rage on February 24, police said.
According to court documents, Garcia became increasingly angry when the toddler would not eat the food he had brought home.
Garcia gripped the boy by the ear and pulled him out of his bedroom.
When the child started to cry, Garcia became more infuriated and grabbed him by the throat, repeatedly slamming his head against the wall and knocking him unconscious.
(Visited 47 times, 1 visits today)