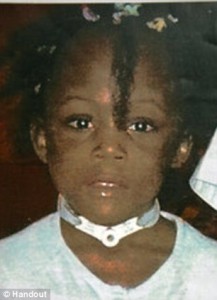 The 'monster mom' whose daughter 4-year-old daughter died weighing only 19 pounds and with bruises all over her body was convicted on Wednesday of murder.
Carlotta Brett-Pierce was emotionless when the jury proclaimed her guilty of her daughter Marchella's death, and such a punishment did not even stop her from giving the judge some attitude when asked if she understood the sentence.
'I heard what you said,' the 32-year-old mother said.
Tortured: Marchella Brett Pierce was just 18lb when she was allegedly beaten and drugged to death
The month-long trial in a Brooklyn court room finished quickly as the New York Post reports that the jury only required one hour to deliberate.
'Marchella was a fighter. She found hard to survive, fought hard to live and she lost her fight to her mother,' prosecutor Jacqueline Kagan said in her closing argument to the jurors.
'Now, you fight for her.'
When Marchella Brett-Pierce was found, she was tied to her SpongeBob SquarePants bed, had been beaten, starved and drugged.
(Visited 28 times, 1 visits today)