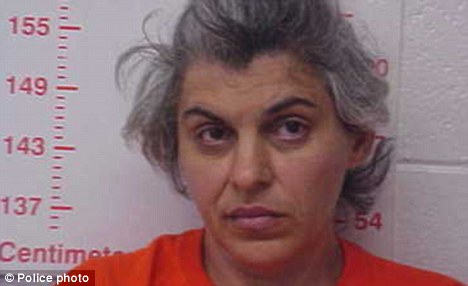 A mother who slit the throat of her four-year-old son had intentions to kill all nine of her children with the same knife, according to police.
Doinita Mitaru, 44, from Polk County, Missouri, was arrested and charged with first-degree assault and armed criminal action on Tuesday.
Her son is in critical condition in hospital.
Detective Billy Simpson said she told him she intended to kill all nine of her children when he interviewed her at the sheriff's station.
He said Mitaru admitted she 'attempted to kill the boy by cutting his neck with a knife'.
'She also advised that her intentions were to kill all nine of her children with the knife . . . but that she was unable to because her children woke up and started screaming after she cut the neck' of the four-year-old.
The children all range in age from four years old to 19.
She is being held on $250,000 bond.
KOLR spoke to a neighbor who saw the helicopter take the child away.
'It was loud over there,' said Heath Hannaford. 'You could hear hollering and screaming sometimes. It made you think something might be going on, but I never seen anything.'
Legal records show Mitaru was in court for guardianship issues ten years ago.
(Visited 45 times, 1 visits today)