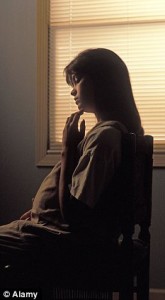 A charity that threw a 'bowl-a-thon' to help low-income women afford abortions paid for a 14-year-old schoolgirl to terminate her baby.
The girl, known only as Darcy, said she was unable to ask her mother for money because the treatment she needed would have cost more than the family's rent.
So she turned to the National Network of Abortion Funds, which raised more than $400,000 after organising bowling events at alleys across the country to raise cash for 'low-income and disadvantaged women who want an abortion and do not have enough money to pay for it'.
In a posting on the charity's website, Darcy said: 'I'm pretty smart for 14, I think. I love biology, especially the stuff on animals.
'I'm pretty sure I'm going to be a vet — I definitely want to start my own practice so that I make enough money and when I have kids I can be home with them.
'My mom doesn't get to do that very much. She works way too hard to support me and my sister.'
She was forced to tell her mother about her pregnancy because 'in the state where I live, minors can't get an abortion without permission from a parent or a judge'.
(Visited 20 times, 1 visits today)