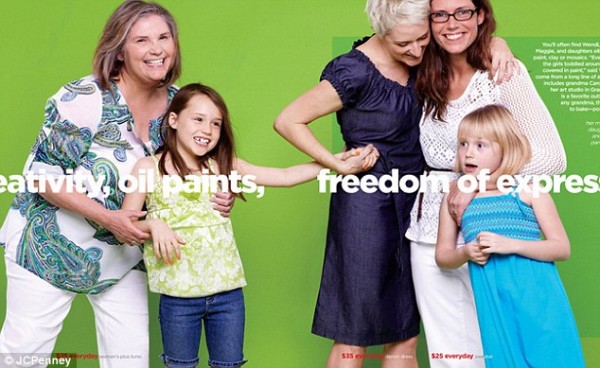 The conservative group One Million Moms has refused to back down on its campaign against JCPenney for featuring a lesbian couple in its new Mother's Day promotion.
The group is still urging its members to take action against the brand's store managers, in the hope their complaints will be passed on to head office – but the activist group has in fact brought more positive attention to the brand than usual.
According to YouGov BrandIndex, a UK-based research group that measures public perceptions of brands, JCPenney's brand health 'rose' after One Million Moms (OMM) released a complaint against the retailer earlier this month.
According to its website, the group is angry JCPenney is 'taking sides' in the 'cultural war' on gay rights, urging its members to: 'Make a personal phone call now to your local JC Penney's store manager.'
The statement says: 'On pages ten and eleven, under the title "Freedom of Expression," you'll find "Wendi and her partner Maggie and daughters". In the picture both women are wearing wedding bands.'
They then go on to lament their frustration with the company's lack of interest in the groups constant attacks.
(Visited 83 times, 1 visits today)