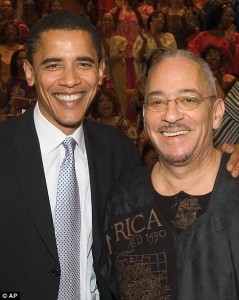 Reverend Jeremiah Wright caused problems for President Barack Obama's campaign in 2008, and new details have emerged alleging that the then-candidate tried to convince his former pastor to keep quiet.
The retired pastor, who came under fire after an old sermon where he said that the September 11 terrorist attacks were 'America's chickens coming home to roost', said that he was offered $150,000 to stay silent until the election was over.
Journalist Edward Klein interviewed Mr Wright and included their conversation in his new book, The Amateur.
'After the media went ballistic on me, I received an email offering me money not to preach until the November presidential election,' Mr Wright told the author, as relayed by The New York Post.
Mr Wright said that 'one of Barack's closest friends' sent an email to a member of the church saying that he would pay $150,000 for the pastor to keep quiet for fear of saying something incendiary.
He said that following the incident, the then-candidate Mr Obama requested a private, secret meeting with the Reverend to make a personal plea.
Mr Wright said that, while he wasn't sure whether or not Mr Obama was wearing a wire, they met and discussed their options.
(Visited 23 times, 1 visits today)