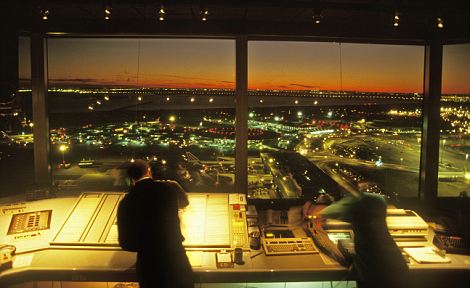 Allegations of widespread misconduct by air-traffic controllers in the Ronkonkoma, New York air tower have come out in a Federal Aviation Administration investigation.
Staff allegedly took naps on blow up mattresses, gambled on the internet and watched movies while on shift, according to reports released this week by the U.S. Office of Special Counsel, an agency formed to help and protect whistle-blowers inside federal agencies.
Controllers reportedly showed a lack of respect for their superiors and the rules, swearing at managers and refusing to train new employees. Supervisors who did try to enforce the rules were threatened or had their property vandalised.
Graveyard shift: Air traffic controllers allegedly took naps and gambled online during their shifts
'It was blatant and in your face,' Evan Seeley, a former manager in the Ronkonkoma, New York, tower, told Bloomberg. 'The advice from the seasoned front-line managers was: you keep your head in the sand.'
Coming from Fort Worth, Texas, Seeley said he was warned about the reputation at the new York Centre, which oversees higher-altitude traffic in the skies above parts of New York, New Jersey, Pennsylvania and Maryland, but was still shocked by what he saw.
At times when the young manager reported staff misdemenours he was told to forget about it and move on.
(Visited 24 times, 1 visits today)