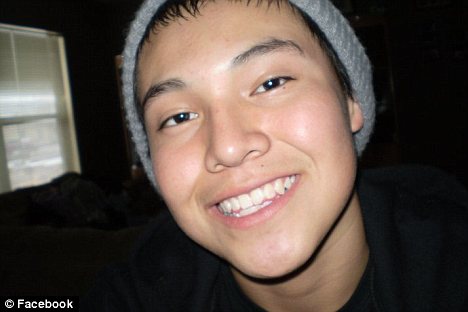 It didn't take Sherlock Holmes to solve this mystery of a bumbling burglar after the suspect left a valuable clue behind: his homework.
Police in Orem, Utah, said they were easily able to track 18-year-old Dallas Naljahih after the teen allegedly left a USB drive at the burglarised home.
Cops said the computer hard drive contained his homework, complete with his full name, in a backpack that was dropped in the backyard.
A 75-year-old man and his wife reported their home had been robbed early on Saturday morning.
The husband said he was woken up by a light in his office, and found a man rummaging through a desk.
When he was discovered, the suspect punched the man twice before fleeing the scene on foot.
Police said that Naljahih left the backpack in his hurry to leave.
Sgt Craig Martinez told MailOnline: 'A lot of times when people are committing crimes and are caught in the middle of it, the first instinct is to run – and they forget things.'
Naljahih writes on his Facebook page that he loves 'to play sports and keep people happy.'
Sgt Martinez said that Naljahih was found passed out and visibly drunk when they found him at his home.
A camera that had been stolen from the home was also discovered.
Sgt Martinez said Naljahih was booked on several charges, including burglary of a residence (a felony), theft, assault, illegal consumption by a minor and possession of drug paraphernalia.
He remained held in jail on $10,000 bail.
(Visited 24 times, 1 visits today)