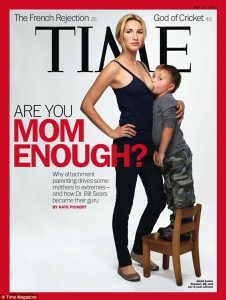 A mother of two has told of how she breastfeeds her two sons who are aged three and five.
Jamie Lynne Grumet, 26, has appeared on the cover of Time magazine breastfeeding her three-year-old Aram as he stands on a small seat to reach her.
The Los Angeles mother has spoken about how she applies the same attachment parenting method to her adopted five-year-old son Samuel.
Ms Grumet was breastfed by her own mother until the age of six.
In a larger feature story about the controversial parenting technique, she tells the magazine that she is able to recall memories of being latched onto her mother's breast.
She said: 'It's really warm. It's like embracing your mother, like a hug. You feel comforted, nurtured and really, really loved. I had so much self-confidence as a child, and I know it's from that.'
She has aimed to provide the same type of support to Samuel, who was adopted from Ethiopia in November of 2010.
Samuel was breastfed by his new mother instantly. He is latched to her breast 'maybe once a month.'
(Visited 22 times, 1 visits today)