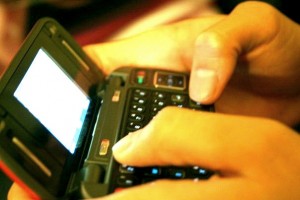 If you are in Fort Lee, New Jersey, you might want to bring your attorneys with you.  A new law against texting while walking has taken affect, leading to $85 tickets being issued to so-called "dangerous walkers."  Another stupid law or good for the public?  You be the judge.
Police in Fort Lee, New Jersey are issuing $85 tickets to anyone caught texting while walking in a clamp-down on dangerous walkers.
In actions which could set a precedent for other police forces around the country, the Fort Lee Police Department (FLPD) have issued 117 tickets for reckless walking in just over one month.
And while it is a common known fact that you should not be texting while driving, the FLPD believe that staring down at your phone crossing from the sidewalk should be punished too.
Police in Fort Lee, New Jersey have issued 117, $85 tickets to pedestrians for walking-while-texting in just over one month
Reasoning that as reliance on smartphones means more people are not paying attention when they walk, the FLPD point to at least 20 pedestrians hit by cars in the borough in the past year who were culpable of text-walking.
(Visited 28 times, 1 visits today)