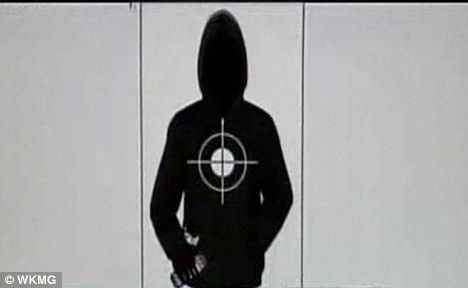 An online retailer selling Trayvon Martin gun range targets claims they have sold out within two days.
Although the paper targets do not depict the 17-year-old's face, they feature an image of a black hoodie that has crosshairs across the chest.
A bag of Skittles is tucked inside the pocket of the jumper, while a hand holds a can of iced tea, according to WKMG.
Martin was wearing a hoodie and had just purchased Skittles and iced tea when he was shot and killed by George Zimmerman in Sanford, Florida on February 26, according to police reports.
The shooting range targets were advertised on a popular firearms auction website but have now been taken down, according to WKMG.
The sellers allegedly 'support Zimmerman and believe he is innocent and that he shot a thug,' according to their online ad.
When the unidentified retailer was contacted by the TV station, he said: 'My main motivation was to make money off the controversy.'
(Visited 77 times, 1 visits today)