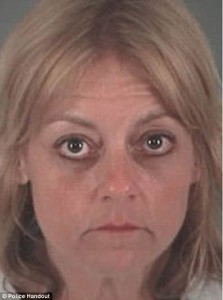 A caretaker is accused of cashing over $200,000 of social security checks issued to a man who died in her care at least 15 years prior when she buried him in a secret grave.
For at least 15 years after John Arnold died while in Carel June Cody's care in Cottage Grove, Oregon, the dead man continued to receive social security checks obtained with a forged signature, prosecutors accuse.
Cody, 46, admits to concealing Mr Arnold's death and burying his body but claims it was in fear that if state welfare officials visited her house they would disapprove of her living conditions and pet monkey.
Arrested on Thursday along with her husband Ernest Cook, 53, she pleaded not guilty to theft of government funds, aggravated identity theft and making false statements to a federal agent.
The body of Arnold, who died some time between 1994 and 1996, has yet to be found but was apparently buried on private property by a group of people working together.
According to KVAL, Cody was a licensed in-home caregiver for the state's Department of Human Services from 1990 to 1994.
She was having difficulty maintaining the state's approval, with two complaints filed against her, so she moved to in-home care instead, according to state documents obtained by the Register Guard.
Moreover, prosecutors allege Mr Arnold's death was not the first on Cody's watch.
A witness told investigators another man prior to Mr Arnold died in the woman's yard while he was naked.
The unidentified witness said she helped Cody move the man's body to a bed before authorities were notified.
Prosecutors say more charges could follow.
'It is possible that these people died of natural causes, but defendant's actions following the deaths and her current obstructionist behaviour reflect her feelings of guilt and her desire to conceal the truth,' the U.S. Attorney for Oregon wrote, according to KATU.
An investigation into the whereabouts of Mr Arnold's body is currently underway by the Douglas County Sheriff's Office, while local, state and federal authorities were seen digging earlier this month for its recovery.
If Mr Arnold's body is found, authorities said they would work to determine if his cause of death was natural or otherwise.
Prosecutors also say Cody may be stealing disability benefits from a third man who is currently in her care.
That man, only identified as M.B., was in her care at the time of her arrest but unable to tell investigators the amount of social security he had been receiving himself from the government when asked.
According to the U.S. Attorney's Office, Cody allegedly married M.B. in a sham marriage when denied release from his previous care facility to her home.
'A witness told investigators that M.B. was in a care facility in the early 1990s and the care facility would not release M.B. to defendant's care out of concern for M.B.
'Defendant convinced M.B. to marry her in Reno as the care facility would have to release M.B. to defendant if they were married.
'Defendant and M.B. were married, consummated the marriage with a hand-shake, and then shortly thereafter obtained a quick divorce,' the U.S. Attorney's Office wrote.
Both Cody and Cook pleaded not guilty Friday with Cook, who is charged with making false statements, granted release from custody following his arraignment.
If convicted Cody could face up to four years in prison.
(Visited 17 times, 1 visits today)