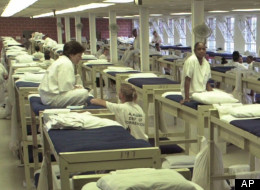 Corrections officers at the only women's prison in Alabama regularly sexually harass, abuse and even rape female inmates with few consequences, according to a new report by a civil rights organization.
Numerous female inmates at Tutwiler Prison for Women in Wetumpka, Ala., reported becoming pregnant after being raped by male correctional staff over the past five years, said Bryan Stevenson, executive director of the Equal Justice Initiative (EJI), which investigated the allegations. Other sexual misconduct, including pervasive harassment, unwanted touching and invasion of privacy, is commonplace, Stevenson said.
Consensual sex between staff and inmates is strictly forbidden by prison regulations, but is also a regular occurrence, with staff requiring women to perform sexual favors in exchange for smuggled contraband goods, the report found.
"What we found is pretty shocking," Stevenson said. "We think there's widespread sex abuse and assaults of women by correctional staff."
Tutwiler, which holds more than 700 inmates, was identified by the Department of Justice in 2007 as the most dangerous women's prison in the country.
Kim Thomas, the Alabama Department of Corrections commissioner, said the agency was aware of the allegations. "This is a matter of grave concern to me," Thomas said in a statement. "Sexual misconduct of any kind, including custodial sexual misconduct, is not tolerated by this department."
Thomas did not address any of the specific allegations in the EJI report. The report's findings include allegations that inmates who reported sexual abuse by guards to senior corrections staff, including the warden, Frank Albright, say they were placed in solitary confinement, lost privileges and were subjected to verbal abuse.
"Many of them reported encounters with the warden that they characterize as abusive, threatening and intimidating," Stevenson said. "The women report that when you complain, you are placed in segregation and are subjected to very aggressive treatment by investigators and other staff. It is not an environment that encourages people to come forward with instances of abuse."
(Visited 185 times, 1 visits today)