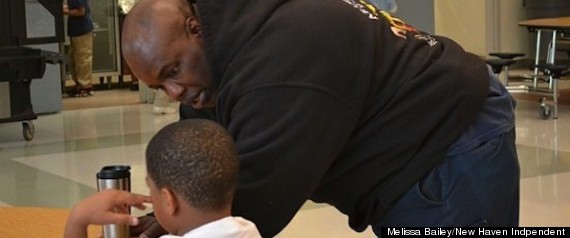 "Mr. LeSane, Jason needs you!" the assistant principal called out across the cafeteria.
Hours after finishing his graveyard prison shift, Floyd LeSane was on the daytime schoolyard shift. He walked over to where a 3rd-grader was circling the tables, refusing to sit down.
LeSane, a correctional officer at Manson Youth Correctional Institution in Cheshire, was dispatched to Jason's side as he made his rounds during one of his regular visits to the Wexler/Grant School, which serves 378 kids in grades pre-K to 8 on Dixwell's Foote Street.
The Dixwell native, who attended the school in his youth, has returned as an adult volunteer. He is helping the crew at Wexler/Grant try to make the school safe and orderly in the first year of a turnaround effort, so it can move on to academic goals. The larger effort of which he is a part reflect a central challenge of low-performing schools seeking dramatic improvement: Keeping order.
(Visited 31 times, 1 visits today)