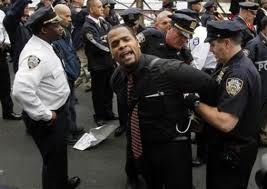 The latest numbers show the New York Police Department's skyrocketing street stops increased to more than 200,000 stops during the first three months of 2012.
The NYPD says officers stopped people on New York City's streets 203,500 times from January through March. That's up from 183,326 during the same quarter last year.
The policy allows an officer to stop a person based on reasonable suspicion, which is lower than that of probable cause needed to justify an arrest.
Critics say the police department is unfairly targeting minorities.
(Visited 38 times, 1 visits today)