Joslyn Arquitt says her son's right arm was dislocated, while in the care of Christ The Way Learning Academy on N. Highland Street. When Arquitt picked up 4-year-old David on Thursday, he was crying uncontrollably.
"I said, 'Baby, what's wrong with your arm?' and he said, 'Krystal pulled my arm'," said Arquitt.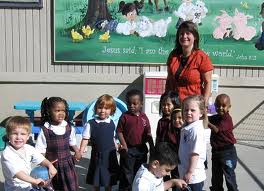 "He had been saying for the past three weeks, 'They don't like me up there. Momma, I don't want to go to daycare. They don't want me at daycare'," she said.
Arquitt thought her son was talking about the kids, but after the dislocated arm and bruises to the boy's face, she began to reconsider.
"He had a thumb print [on the right side of his face] and a hand-print [on the left side of his face]," said Arquitt as she grabbed her own chin. "I said, again, a kid can't do that, that's a full-grown person's hand."
However, Brenda Haley, who owns the daycare, says she had no idea about the allegations. She wishes Arquitt would have come to her first, something police told the mother not to do.
"We would have been more than happy to address the matter, but as of right now I don't know of any child being hurt or any complaint concerning this daycare," said Haley.
The daycare owner said this would be the first claim brought against the daycare.
(Visited 25 times, 1 visits today)