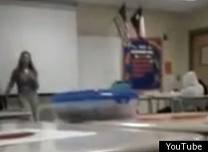 After launching into a bizarre rant in which she claimed to be married to God, pregnant with his child, and predicted the pending apocalypse, a teacher at Veterans Memorial Academy in San Benito, Texas, has been removed, the Houston Pressreports.
According to the paper's blog, the teacher claimed God's army would destroy the world on December 21, 2012, but that Jesus had another planet ready for them where everyone "was always 25 years old," and money doesn't exist.
"I am married to God, and I don't know what's going to happen to my husband that's here (on earth)," she said, according to the San Benito News. "One of my eyes is mine and the other one belongs to God, so God is watching what you all are doing."
At the end of the video — most of which is in Spanish — a school official can be seen entering the classroom and leading the teacher into the hall.
While San Benito Consolidated Independent School District Superintendent Antonio G. Limón would not reveal the identity of the teacher to the San Benito News, the district did provide a formal statement about the incident:
"An incident involving a San Benito Veterans Memorial Academy teacher remains under review by campus and district officials. Students in the classroom alerted other school personnel who responded by escorting the teacher out of the classroom during the recent incident. San Benito CISD wants to assure the parents that a replacement teacher has been assigned to fulfill the classroom duties of the teacher in question and will remain there for the remainder of the school year. The issue in question is considered a personnel matter, therefore, the district is not at liberty to disclose any additional information or divulge specific details about the district's specific course of action."

Source
(Visited 51 times, 1 visits today)