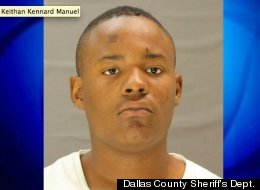 Keithan Manuel is learning the hard way that a sense of humor is very subjective, but that's what happens when you attempt to rob a police station.
Manuel walked into a police station in suburban Dallas on Saturday evening with a white towel covering his hands and told the dispatcher to hand over money, CBS News reported.
Although Manuel has claimed that he was just pulling a practical joke, Police Chief Victor Kemp said the suspect didn't seem to be acting like a jokester.
"He said he'd like to check on a warrant, but it was pretty obvious it was a situation. He gave a different name and after a few moments of maybe playing it off he said, 'You do know I have a gun,'" Kemp told KTVT-TV. "At that point he seemed to be very serious. She called for officers immediately. The officers arrived and were able to take him down at gunpoint."
Police took Manuel down and determined he did not have a weapon. Meanwhile, he denies saying he was carry a gun.
(Visited 39 times, 1 visits today)