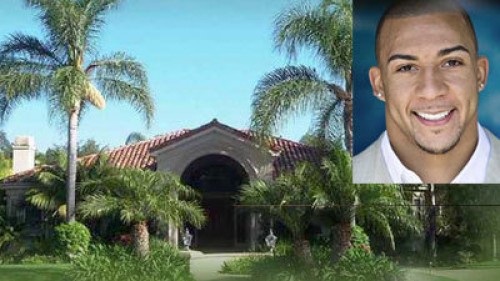 Seattle Seahawk Kellen Winslow Junior is accused of destroying a Rancho Santa Fe home he and his wife rented last year, according to a lawsuit. The lawsuit, filed recently by the homeowners Ahmad and Nona Zarei, alleged Winslow Jr. of ruining $381,000 of furniture, rugs, and designer drapes.
"This is a standard shakedown of a professional athlete," said Winslow Jr.'s attorney Brian Watkins.
The former Tampa Bay Buccaneer rented the home, located at the 17,100 block of Camino Acampo in Rancho Santa Fe, from January 2011 to June 2011 for $9,000 a month. The home is estimated to be worth about $2 million. The homeowners accused Winslow Jr. of leaving the home smelling like dog urine and feces. It alleged the home had a "putrid stench of animal waste."
"I don't believe there was any damage. They said house smelled of urine. I did two walk-throughs and could not smell anything," said Watkins. "That's their motivation. They think they'll get that from a professional athlete and it's not going to happen."
Fox 5 contacted homeowner's realtor, who also conducted the final walk-through. She said there was minor damage, nowhere near the estimated amount claimed in the lawsuit. Fox 5 contacted the homeowner and his attorney. Neither one returned the calls for comment.
(Visited 188 times, 1 visits today)