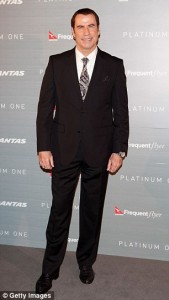 In the on-going legal drama between John Travolta and the men who have accused him of unwanted sexual advances, there has been yet another twist.  The Pennsylvania Motel in Manhattan had blacklisted Travolta for three years for inappropriate behavior.
Michael Caputo, who once worked for the Manhattan, said that Travolta would always request a man for his massages and was banned after some disturbing behavior on multiple occasions.  Caputo, a 55-year old man, said that male staffers said John would grind against the massage table and remove his towel during the therapy.
"Travolta would always request a man for his massage, but after a while no one would take him because of his inappropriate behavior," said Caputo.
"It got to the point where they couldn't find any men to take him, and they had to ban him," said one of the employees, named "Magic Mike."
Travolta's lawyers claim that this is all non-sense.
"If he was banned, do you think he'd ever go back?" said Travolta's attorney, Marty Singer.
"He's never been banned, I guarantee you. . . . The hotel never told John he was banned, and John never acted improperly," he said.
(Visited 35 times, 1 visits today)