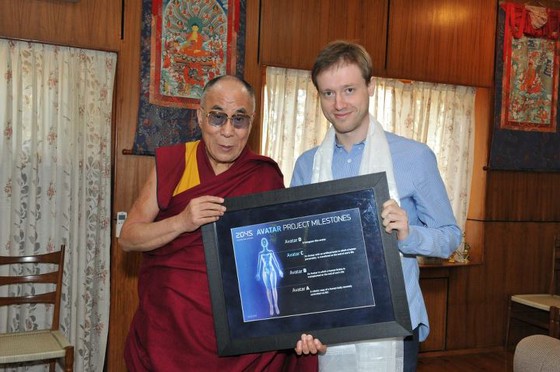 Apparently and a bit oddly the immortality project to transplant people's brains into robots has received the blessing and support from the Dalai Lama. Dmitry Itskov, founder of Russia 2045, met His Holiness Tenzin Gyatso, the 14th Dalai Lama, in his residence in Dharamsala, a small mountain town in northern India.
They discussed the three major steps of 2045 Avatar Project.
First, the creation of a human-like robot dubbed "Avatar A," and a state-of-the-art brain-computer interface system to link the mind with it.
Next, it be created a life support system for the human brain, which connects to the "Avatar A," turning into "Avatar B."
The third step, named "Avatar C", is developing an artificial brain in which to transfer one's individual consciousness with the goal of achieving cybernetic immortality.
Creating the "Avatar C" through developing an artificial brain and understanding the nature of human consciousness, says the Dalai Lama, could be attainable, and would be a great benefit to future development of science.
"In the last few years, scientists now begin to show an interest about consciousness, as well as brain specialists, neuroscientists, who also begin to show interest about consciousness or mind. I feel that over the next decades modern science will become more complete," said the Dalai Lama. "So up to now the matter side of science has been highly technical, highly advanced, but the mind side has not been adequate. This project, definitely, is helpful to get more knowledge."
via The Dalai Lama has given his blessing to Dmitry Itskov's Avatar 2045 project.
(Visited 35 times, 1 visits today)