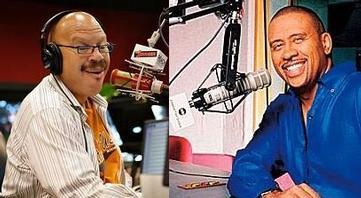 Civic-Minded Jocks Out as KISS Folds into WBLSThe nations largest radio market lost one of its two big black-music stations on Monday, and with it the nationally syndicated, civically aware voices of Tom Joyner and Michael Baisden.
Joyner said he was sad and urged New York listeners to keep in touch with his show via the Internet, but Baisden vowed to fight and launched a petition drive.
"Its the end of an era and a long-standing rivalry in New York City radio," Deepti Hajela reported Thursday for the Associated Press."Urban adult contemporary station WRKS, or KISS-FM, will no longer be broadcasting at the 98.7 FM frequency after 30 years in operation. Emmis Communications, which owns the station, announced Thursday that the frequency would be leased to ESPN and turned into a sports talk format starting 12:01 a.m. Monday. ESPN has an AM frequency in New York City, but has been looking to shift to FM.
"The end of KISS-FM, a mainstay among African-American listeners in the area, leaves rival station WBLS at 107.5 FM as the only urban adult contemporary station in New York City."
Recent changes in the way radio ratings are measured made it very difficult for us to find success with KISS FM, Emmis CEO Jeff Smulyan said in a statement announcing the change. Some in the radio industry have complained that a new ratings system undercounts minority radio listeners, which in turn can affect advertising sales."
via Tom Joyner and Michael Baisden Gone in NY Radio Merger.
(Visited 43 times, 1 visits today)