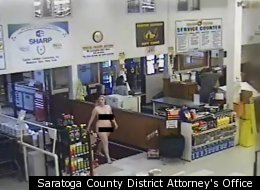 A nude woman who calmly walked into two New York businesses this week shocked employees and attracted the gaze of more than one startled shopper.
Temperatures may have only been in the 60s in Saratoga Springs on Tuesday, but that did not stop 49-year-old Barbara Lafleur from stripping down to her birthday suit while she went shopping along Route 67, authorities said.
"It was bizarre. It was a very bizarre case. We've never had anything like this happen," Saratoga County District Attorney James Murphy III told The Huffington Post.
Lafleur's first stop was Curtis Lumber, where surveillance cameras captured her strolling casually through the store. Contacted by HuffPost Friday, store manager Bob Eakin said he was no longer allowed to comment on the incident. In an earlier interview with the Times Union, Eakin said Lafleur asked a couple of employees what time it was, told them to "Have a good day," and then walked out.
(Visited 57 times, 1 visits today)