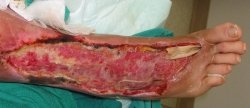 Aimee Copeland was once a healthy and adventurous young woman with her whole life in front of her. Now, she is fighting for her life against a flesh-eating bacterial infection that has forced doctors to amputate her leg.  She may soon lose her fingers as well.
"Aimee will suffer the loss of her fingers, however physicians have hope of bringing life back to the palms of her hands, which could allow her the muscle control to use helpful prosthetics," said her father Andy Copeland on Facebook.  "They are awaiting a safe time before embarking on surgery for this."
The infection is called Aeromonas hydrophila, which put the University of West Georgia graduate student in the hospital.  The young lady caught the disease after a homemade zip line broke, causing her to fall down to the rocks below.  The tear in her calf allowed the bacteria to enter her body and this led to her current condition.
Doctors remain baffled by the bacteria and have yet to find a way to slow down the infection.
(Visited 142 times, 1 visits today)