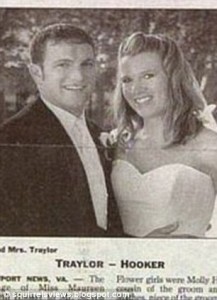 When you meet 'The One' trivialities such as the other person's surname are unlikely to hold you back from getting hitched – as these incredible pictures prove.
Indeed Mr Traylor wed Miss Hooker, Mr Rather tied the knot with Miss Grim and Mr Orefice walked down the aisle with Miss Rump.
Seemingly refusing to care about their hilariously unfortunate surnames, dozens of couples have opted to announce their weddings and engagements in their local papers.
What's in a name? These couples decided their unfortunate sounding surnames were not enough to stop them getting together
Presumably couples such as Elizabeth MacDonald and Joel Berger were relieved to have the option to simply take on their other half's surname.
One couple able to relate to the MacDonald-Berger's are Amy Moore and Anthony Bacon, who got married in North Carolina in 2007.
Read more hilarious wedding announcements…
(Visited 17 times, 1 visits today)