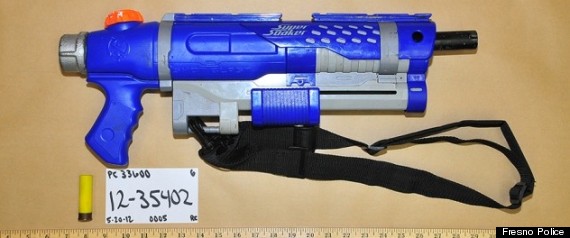 This is hardly child's play: Randy Smith, 54, was reportedly found walking the streets of Fresno, Calif., Saturday night, carrying a Super Soaker that he had converted into a 20-gauge shotgun, according to KMPH.
Normally cops wouldn't raise an eyebrow at someone waltzing around town with one of a high-powered plastic water guns, but an uptick in toy-to-gun conversions made officers more suspicious of Smith.
They stopped him and found that he had indeed fashioned a powerful weapon out of $30 worth of parts.
"He took the Super Soaker apart, was able to fashion a barrel to where he was able to make what's considered a zip gun, where you can fire one round through it. In this case it was a 20-gauge shotgun shell," Fresno Police Sgt. Mark Hudson told the station.
(Visited 44 times, 1 visits today)