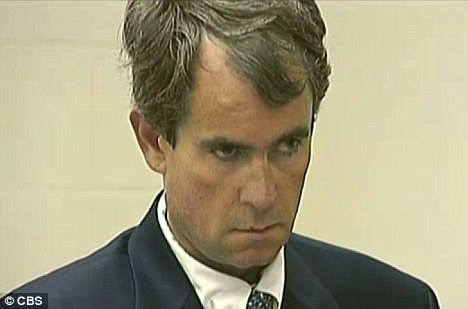 A former clothing company exec is accused of killing his brother-in-law with a lethal headlock after the man got out of hand at a family birthday party.
John T. McDonough, 45, was charged with manslaughter after the tragedy at his upscale Cohasset, Massachusetts home on Tuesday night.
McDonough's attorney said he was trying to protect his family when David Hoelzer, who was celebrating his 45th birthday, became violent.
The man, who had been drinking, became 'increasingly loud and began swearing' at the small family gathering, his father Arthur told police.
McDonough put Hoelzer in a headlock in an attempt to subdue him and the two men fell to the floor, his father added, the Boston Herald reported.
When on the ground, McDonough released his hold on his Hoelzer – his wife's brother – and the man lay motionless, police said.
Police said Melissa McDonough was 'crying hysterically' and said her brother had gone 'into a rage and hit someone over the head with a chair'.
Court records indicate that there were two children at the birthday party – a 3-year-old and a baby – the Patriot-Ledger reported.
Police found Hoelzer with his eyes 'open and fixed'. He was pronounced dead at South Shore Hospital, the Herald reported.
McDonough was charged with manslaughter and assault and battery.
At his arraignment at Quincy Ditrict Court, he was visibly shaking in his cuffs and kept his eyes to the ground. He pleaded not guilty.
'It's a family tragedy,' said his lawyer, Robert Harnais. 'The victim got out of control, became violent and unfortunately had to be subdued.'
He added to the Patriot Ledger: 'He is an emotional wreck. This is a man who had to take steps to protect himself and his family.'
McDonough was released after paying $50,000 cash bail and will appear in court next month.
He told officers at the local police station that he was heading to Cape Cod to avoid the news trucks outside his home, the Herald reported.
Business: McDonough was once a top-exec at Rugged Bear, a children's clothing company that had 29 stores before it went bankrupt last year
McDonough served as executive vice president at the Rugged Bear children's clothing company until March 2011.
The company, which once had 29 stores, had filed for bankruptcy two months prior. He is currently unemployed.
Hoelzer worked in 'outsourcing and offshoring', according to his LinkedIn page.
(Visited 39 times, 1 visits today)