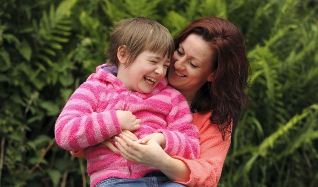 For many, Adele's "Rolling in the Deep" is the ultimate breakup song. But for one UK mother, it was a lot more.
Leila Neve's 7-year-old daughter, Charlotte, was in a coma in a UK hospital after she suffered a brain hemorrhage in her sleep. Charlotte also suffered a series of strokes and had already undergone two surgeries when doctors told Neve that the outlook wasn't good. Charlotte had been in a coma for nearly a week, and doctors recommended that the family start saying their goodbyes.
What Leila thought would be a goodbye song to her daughter turned out to be nothing short of a miracle.
Sitting next to her daughter in the hospital bed, Neve began singing her daughter's favorite song, Adele's "Rolling in the Deep," which had just started playing on the radio. That's when the mother and nurses noticed the little girl smile.
Australian Women's Weekly reported Leila's initial response: "Charlotte started smiling and I couldn't believe it. It was the first time she had reacted to anything since the hemorrhage. The nurses were astounded and told me to keep singing, and she smiled again."
Just two months later, Charlotte is talking and walking again. And though she now suffers from memory loss and partial blindness, she has also returned to school and dance lessons.
(Visited 26 times, 1 visits today)