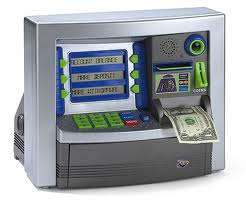 Hundreds visit casinos everyday and not too many leave as winners.  Many gamblers out there have fallen under the label as addicts and it takes a lot to get them to quit spending their money.  They borrow until they can't borrow anymore and it can get out of control.  Luckily most stop when they run out of money, but that didn't stop Detroit man, Ronald Page.
55-year-old Ronald Page decided to go out for the night and visit the MGM Grand and also the Greektown Casino.  While there, he started to gamble, and like most, he didn't win very much, in fact he needed to go out and get some more money.  Ronald Page went to an ATM for his bank, The Bank of America, and started withdrawing money.  Unfortunately he overlooked what he actually had in his account and started to overdraft it, but the strange part was, the ATM kept letting him take out money, so he kept taking more and more out.
Most banks will put a stop to over drafting after a certain amount, but Bank of America states they ran into a 'glitch' and when that 'glitch' went into effect, it allowed Page to withdraw whatever amount of money his heart desired.  By the time he left the Greektown Casino, he had withdrawn $312,000.  He moved on to the MGM Grand Casio shortly after and withdrew and additional $51,727.  It took Bank of America 17 days to actually put a hold on his account, but by then he had taken over $1.5 million.
Although Prosecutors state they are holding Page accountable as he should have noticed that he didn't actually have $1.5 million, they are also scolding Bank of America.  Glitch or not, prosecutors state they were feeding his gambling addiction and should have done something sooner to stop the withdrawals.
(Visited 32 times, 1 visits today)