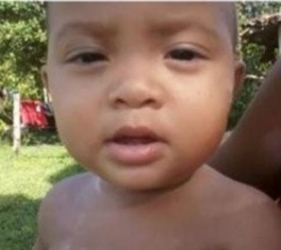 There are reports from Brazil that a two-year old boy who'd died from pneumonia sat up in his coffin and asked his father for a glass of water.  Right after lifting up and shocking his loved ones, the boy laid back down, dead once again.
Little Kelvin Santos died during treatment for pneumonia at a hospital in Belem, Brazil.  The boy was declared dead on Friday night at 7:40 pm, and his family was given his body in a plastic bag.  The boy was declared dead after he stopped breathing during his treatment.
The family held a wake through the night and a funeral the next day.  The boy's coffin was open during the ceremony.  About one hour before the funeral was set to begin, the boy sat up in the coffin and said, "Daddy, can I have some water?"
Antonio Santos, the boy's father, said, "Everybody started to scream, we couldn't believe our eyes. Then we thought a miracle had taken place and our boy had come back to life."
"Then Kelvin just laid back down, the way he was. We couldn't wake him. He was dead again."
The father rushed his son to the hospital, where doctors examined him and said that he was dead.
"They assured me that he really was dead and gave me no explanation for what we had just seen and heard," he said.
The family delayed the funeral for another hour, in hopes that the boy would wake up again.  But he didn't wake up, so they buried him.  The father has filed a claim of negligence against the hospital.
"Fifteen minutes after rushing him away for resuscitation, they came and told me he was dead and handed me his body. Perhaps they didn't examine him properly. Dead people don't just wake up and talk. I'm determined to find out the truth," he said.
(Visited 222 times, 1 visits today)