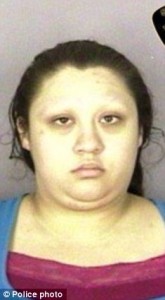 This lady got a 2.1Million Tax Refund after using Turbo Tax Software.  Although several tax examiners reviewed her electronic claim they still issue her a Visa card containing her massive refund.
A woman who was given a $2.1million tax refund after filing a false claim went on a massive spending spree until she was caught.

Krystle Marie Reyes was only caught after she reported the Visa card containing the seven figure sum had been lost.

By that time she had already spent more than $150,000, including buying a car and other household items.

The 25-year-old from Salem, Oregon, had used Turbo Tax  to file her income tax return for 2011.

She claimed earnings of $3million but used the tax calculator programme to claim a refund of $2.1million, Oregon Live reported.

Due to the size of the refund, her electronic claims was examined by several people within the Oregon Revenue Department.

Incredibly they approved the payout and Reyes, from Salem, Oregon, was sent a visa card by the tax preparation computer programme containing a balance of $2.1million.

Prosecutors said she went on a spending spree and spent more than $150,000.

She later reported the card missing prompting an investigation which uncovered the massive fraud which is believed to be the biggest in the history of the state of Oregon.

Reyes, according to an arrest affidavit, paid $2,000 in cash for a 1999 Dodge Caravan and used the card to buy $800 worth of tires and wheels.

She was also caught on CCTV cameras using the card at various outlets.

According to the probable cause statement, Reyes spent $13,000 in Marion County over two days in February, $26,000 in March and more than $35,000 in April.
This is crazy.  Do you think she should have to give it back?
(Visited 18 times, 1 visits today)