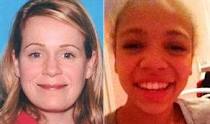 On Monday night a mother and her 13-year-old daughter were found dead in their home. They had just moved to the quiet suburban area from the Midwest on Christmas Eve. At 6pm, police responded to a 911 report of a shooting. They then found 37-year-old Amy Freeman Burton dead from a gunshot wound. Her 13-year-old daughter, Ainsley Freeman, was taken to Eden Medical Center in Castro, Valley, where she was later pronounced dead, according to Lt. Jeff Bretzing.
Amy Freeman Burton's husband, Christopher Burton, arrived home to find his wife dead and his stepdaughter shot. The police recovered two handguns from the home after Burton called the police. One of the handguns was found near one of the victims. Investigators have not disclosed how many shots were fired. According to police, Burton told police that the unregistered guns were from his brother in Arizona.
Bretzing says that Christopher Burton is not a suspect in the case. Burton has been fully cooperative and has given a full statement to the police. In February the police and the FBI began investigating a report from the Burton family that claimed that Ainsley had been talking to a suspicious male over the internet. The suspect turned out to be a 16-year-old boy from Kentucky.
Burton said that Ainsley's mother had become paranoid about the two teens communicating online. The police say that there is not a connection between the chatting and the shooting deaths, however they will follow up with the boy.
(Visited 19 times, 1 visits today)